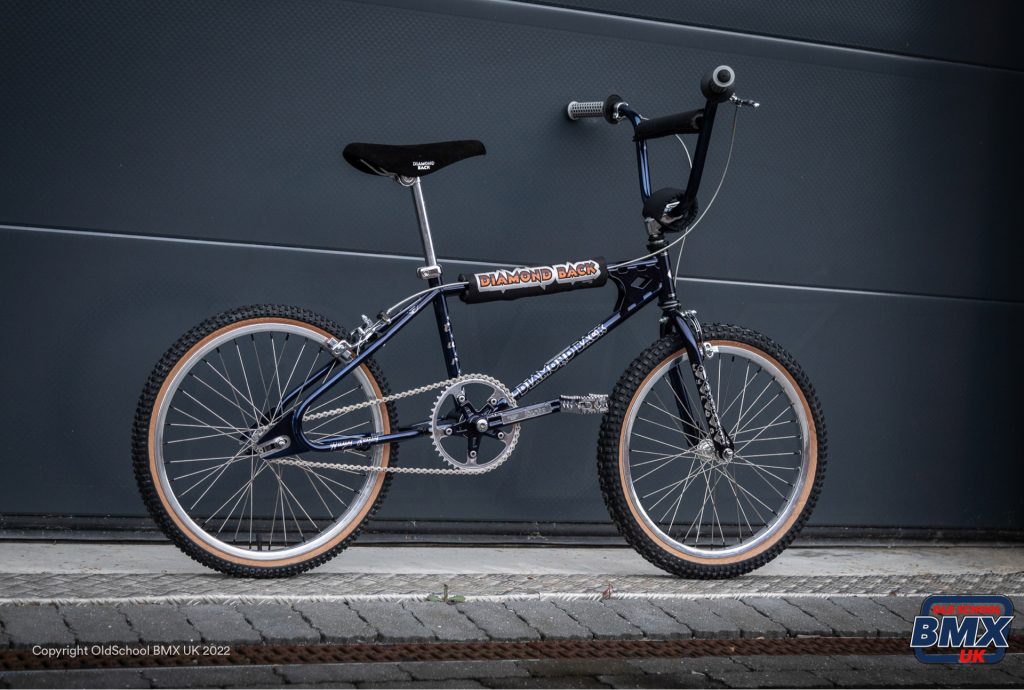 Diamond Back Harry Leary Turbo Introduction
The Diamond Back Harry Leary Turbo, or HLT for short – is considered by some to be the Holy Grail of BMX. Named after the legendary Diamond Back Team Racer, Harry Leary – who's nickname is 'Turbo', in reference to his speed – with its famous Turbo Smoke finish, it is the most iconic, stylish and desirable Diamond Back BMX ever to be produced.
Diamond Back Harry Leary Turbo Specifications
The Harry Leary Turbo was produced from mid 1982 until 1984. The following section detail the bike's specifications. In following sections we highlight component and other variations that took place over the production run.
Part
Details
Finish
Turbo Smoke with chromed components,
Frame
Diamond Back Turbo, 4130 chrome-moly. ( Koizumi )
Fork
Diamond Back Turbo, 4130 chrome-moly ( Koizumi )
Handlebars
Diamond Back Turbo, 4130 chrome-moly. ( Koizumi )
Grips
Oakley F-1.
Headset
Tange MTX, black chrome.
Stem
Diamond Back (by Sugino), aluminum clamp with chrome-moly shaft.
Rims
Arava 7X aluminum.
Spokes
Asahi 080/36, double butted, chrome-plated, black aluminum nipples.
Hubs
Suzue sealed bearing.
Brake calipers
Dia-Compe 890 calipers, front and rear.
Brake levers
Dia-Compe.
Brake pads
Dia-Compe.
Cables
Dia-Compe.
Tires
Diamond Back Skinwall Knobbies (by IRC).
Pedals
Diamond Back SR MP-133 (by Sakae Ringyo).
Suntour XC-II
MKS Graphite
Cranks
Diamond Back Turbo, three-piece, chrome-moly, 181mm.
Sugino aluminum, integral part of crank set.
Bottom Bracket
Sugino sealed bearing CV-SC
Front Sprocket
Sugino 44T chainwheel (5mm width).
Rear Sprocket
Suntour 16T.
Chain
DID 3/32 inch.
Seat
Diamond Back Turbo Suede Covered (Five Gold by Kashimax)
Seat Post
DiamondBack Koizumi Stamped Diamond Back Turbo
Seat Post Clamp
Koizumi steel, chromed
Harry Leary Turbo BMX Identifying characteristics
To help identify your bike as a Harry Leary Turbo, he's a handy list of identifying characteristics/things to look out for include:
A smoke finish – this is chrome with a clear dark finish with a hint of blue.
A frame with a Koizumi formatted

serial number

found on the inside of the rear non-drive side dropout, beginning with either a 2, 3 or 4, meaning 1982, 1983 and 1984

Fork serial number found inside on non-drive side dropout, beginning with 2, 3 or 4, meaning 1982, 1983 or 1984, second letter is month, last letter T for Tange.
1982 – 1983 models have a large gusset ( 3 TIG welds) and a standard rear brake bridge.
1984 models have a small gusset and distinctive 'bat-wing' rear brake bridge as found on the Formula One

Small gusset (two TIG welds)

Loop tail
Leverage ratio rear dropouts
Early Harry Leary Turbos, and indeed the Senior pro ran a dropout that pointed straight out of the rear of the frame. From ~Summer 1982 'Leverage ratio' drop-outs were introduced. These dropouts point down slightly giving the rider more leverage and starting power as the wheel digs into the ground more when starting from the gate. The images below show an 1981 Senior pro with pre-leverage ratio dropouts and a Harry Leary Turbo from late 1982 with leverage ratio dropouts. Use the slider to see the difference between the two.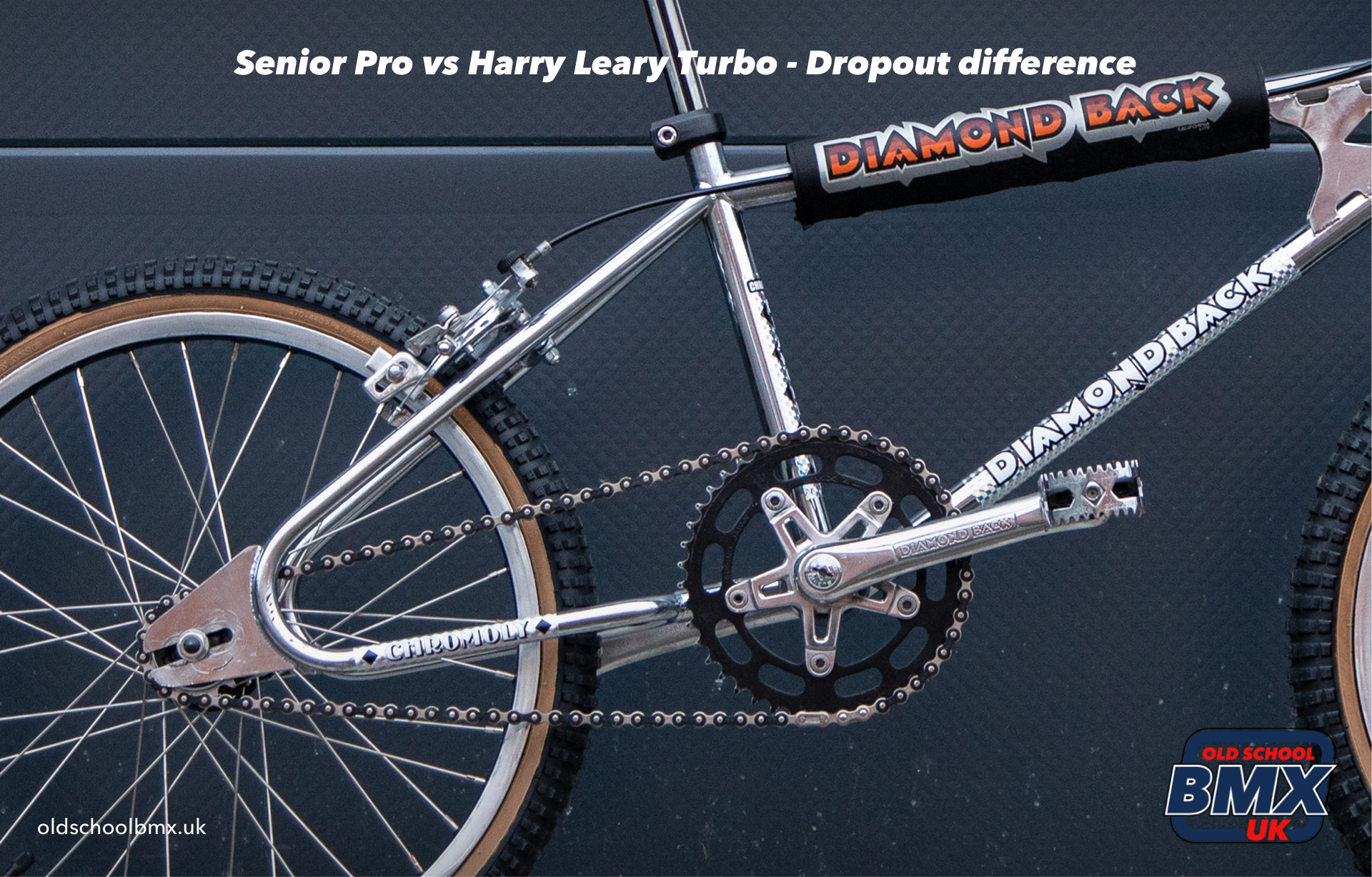 Pre-leverage vs leverage dropouts
Pre-leverage vs leverage dropouts
Variations by model year
Diamond Back Harry Leary Turbo 1982
Work in progress
Diamond Back Harry Leary Turbo 1983
Work in progress
Diamond Back Harry Leary Turbo 1984
Work in progress
If you have a Diamond Back Harry Leary Turbo for Sale, why not contact us here
Explore other BMX Bikes