Diamond Back Formula 1 Specifications
| Part | Details |
| --- | --- |
| Finish | Chrome with chrome and Turbo Smoke anodized components. |
| Frame | Diamond Back Formula One, chrome-moly. ( Koizumi ) |
| Fork | Diamond Back Formula One, chrome-moly. ( Koizumi ) |
| Handlebars | Diamond Back Formula One, chrome-moly. ( Koizumi ) |
| Grips | Taiwan Oakley B-1B copies |
| Headset | Tange MTX |
| Stem | Diamond Back Formula One aluminium and chrome-moly shaft |
| Rims | Araya 7XN, 20×1.50, Chrome, aluminium. |
| Spokes | 36 .080/060/080. |
| Hubs | Suzue, aluminium, low-flange. |
| Brake calipers | Dia-Compe. |
| Brake levers | Dia-Compe Tech 3 |
| Brake pads | Dia-Compe |
| Cables | Dia-Compe |
| Tires | Front; Mitsuboshi Comp Ill, rear; Turbo Lite by Mitsuboshi. |
| Pedals | SunTour XC-Il, aluminium and chrome-moly. |
| Cranks | Sugino CT, three-piece forged chrome-moly 175mm |
| Bottom Bracket | Sugino with Sugino chrome-moly spindle. |
| Front Sprocket | Sugino aluminium chainwheel, 44 teeth Integral with pedal arm. |
| Rear Sprocket | SunTour, 16 teeth. |
| Chain | D.I.D., 3/32 inch |
| Seat | Diamond Back 5-Gold (Kashimax) |
| Seat Post | Formula One, aluminium. |
| Seat Post Clamp | Sakae-Ringyo (SR) aluminium |
Identifying characteristics
The Diamond Back Formula 1 is a Koizumi made frame and forks. The production run was from late 1983 until 1984. It was one of the last Diamond Back BMXs to be produced by Koizumi, alongside the 1984 Harry Leary Turbo.
The model is identified by some distinctive characteristics. Like the Silver Streak, it is small compared to the pro models and was aimed at an age group range of 10 – 14 years, it size and high-quality components ensured it was extremely light – the entire bike weighing in at 21lbs (9.5kg). The frame is a stick tail, meaning each rear stay is constructed out of two tubes, instead of one continuous piece in a looptail, the rear drop outs have a unique diamond cutout.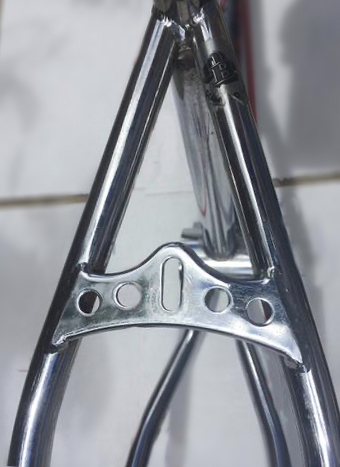 Other interesting design features are the rear brake bridge, which has a distinctive 'bat wing' style design, which is also shared by the 1984 Harry Leary Turbo.
Identifying characteristics/things to look out for include:
A

serial number

beginning with either a 3 or 4, meaning 1983 and 1984

Distinctive 'bat-wing' rear brake bridge
Small gusset (two TIG welds)
Slightly shorter forks (by 1″) than all other models of the same period
Stick tail
Diamond cut out on rear dropouts as well as forks