Diamond Back BMX
Frame Identification
With the FAQs on this page and our serial number checking tools, you can identify most Diamond Back BMXs made between 1979 and 1984
To use our serial number lookup tools, simply enter your serial number and answer one or two questions and it will figure out your bike.
Diamond Back Japanese Serial Number Tool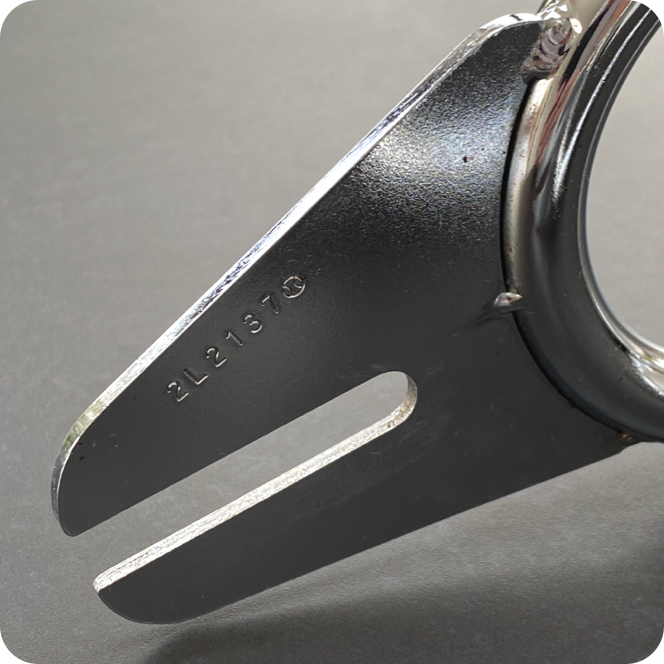 This tool can identify Japanese Diamond Back models manufactured between 1979 and 1983. Before starting ensure your bike:
Has a Diamond cutout in the gusset
Has a 6 digit serial number followed by a baseball on the inside of the rear non-drive side dropout.
Eg: 1A1234⚾︎
Please note: This Japanese frame identifier does not currently identify the Formula 1 or Harry Leary Turbo Models. The tools are in Beta testing and may not always give a result. See website terms and conditions for limitations.
Diamond Back Taiwanese Serial Number Tool
This tool can identify Taiwanese Diamond Back models manufactured between 1983 and 1984. Before starting ensure your bike:
Has a Diamond cutout in the gusset
Has a 7 digit serial number starting with the letter F on the bottom bracket
Eg: F3129870
Identify Diamond Back BMX frames
This page can be used to help identify Old School Diamond Back BMX models that were produced between 1979 and 1984. If you want to lookup a Diamond Back BMX from this era, this is the place to start. There are two tools available, one for Japanese made frames and one for Taiwanese frames. Don't worry, there are easy to follow instructions and pictures of where to locate the serials numbers.
Towards the end of this page, you'll find our frequently asked questions and other helpful information.
Notes
Frequently asked questions
How can I identify my Diamond Back BMX?
Most Diamond Back BMXs from the late 1970s and into the early to mid 1980s (1985 to be precise) will have a Diamond shape cut out of the gusset. The gusset is a piece of metal used to strengthen the frame, it is welded to the top tube and down tube at the front of the bike frame.
Once you've established your bike does have a Diamond cut out gusset and is indeed and a Diamond Back BMX, move onto look at the next question to find out what model of bike you have.
How can I tell what model my Diamond Back is?
Once you've identified that you have a Diamond Back bike, the next step is to identify the model of the Diamond Back bike. Many people ask this question and the answer is not always straightforward. This website is designed to help you out.
Diamond Back BMXs from this period cannot be identified solely on by their serial number. The good news is, that in most cases it is possible to tell what model your Diamond Back is by looking for some key characteristics and design details, in conjunction with the serial number.
The first step then, is to find the serial number. For older, Japanese made Koizumi BMXs, the serial number can be found on the rear dropout, on the non-drive side. Once you have this number, you can use our bike identification tool to find your model.
If your bike is a later model, produced in Taiwan, then the serial number will be in the bottom bracket. When you have your serial number, you can use our bike identifier tools, just enter the serial number and answer some questions and it will find a result. In case you missed the links and buttons higher up the page, here are the links again:
How can you decode BMX serial numbers?
It is possible to decode Diamond Back BMX serial numbers, there are many resources on our website to help you do this. Most BMX serial numbers consist of several markers, these include:
A manufacturer stamp or code
The year of manufacture
The month of manufacture
A unique identifier which represents the unique unit number of the frame in that month or year.
See our Diamond Back Koizumi and Diamond Back Fairly serial number guides for full details. These include pictures and diagrams to help you on your way. Both of thee guides will help you read your bike's serial number.
How can I identify what year my Diamond Back BMX was produced in?
Diamond Back year identification is relatively straightforward once you have followed the instructions in the questions above. Once you've identified that you have a Diamond Back BMX, you can then find the serial number on the bike.
For Diamond Back Japanese Koizumi BMX frames, the year is the first number found on the serial number. See our Japanese/Koizumi guide for more info.
For Diamond Back Taiwanese Fairly made BMX Frames, the year is the second number in the serial number, after the letter F. For more details, see our Taiwanese/Fairly serial number guide.
What Diamond Back BMX Models existed?
We have an entire section of the website dedicated specifically to Diamond Back BMX models that were produced from 1979 to 1985. You can find all of the models here in the Diamond Back BMX models section.
This era was known as old school BMX. Each of the model pages contains detailed specifications about the bike in question and includes:
Weights and dimensions
Specification such as;
Colours, trim levels and options
Decals
Parts and components
Brochure, catalogues, user manuals and marketing materials.
Help and credit to the web app guys for assistance with the frame identifier.