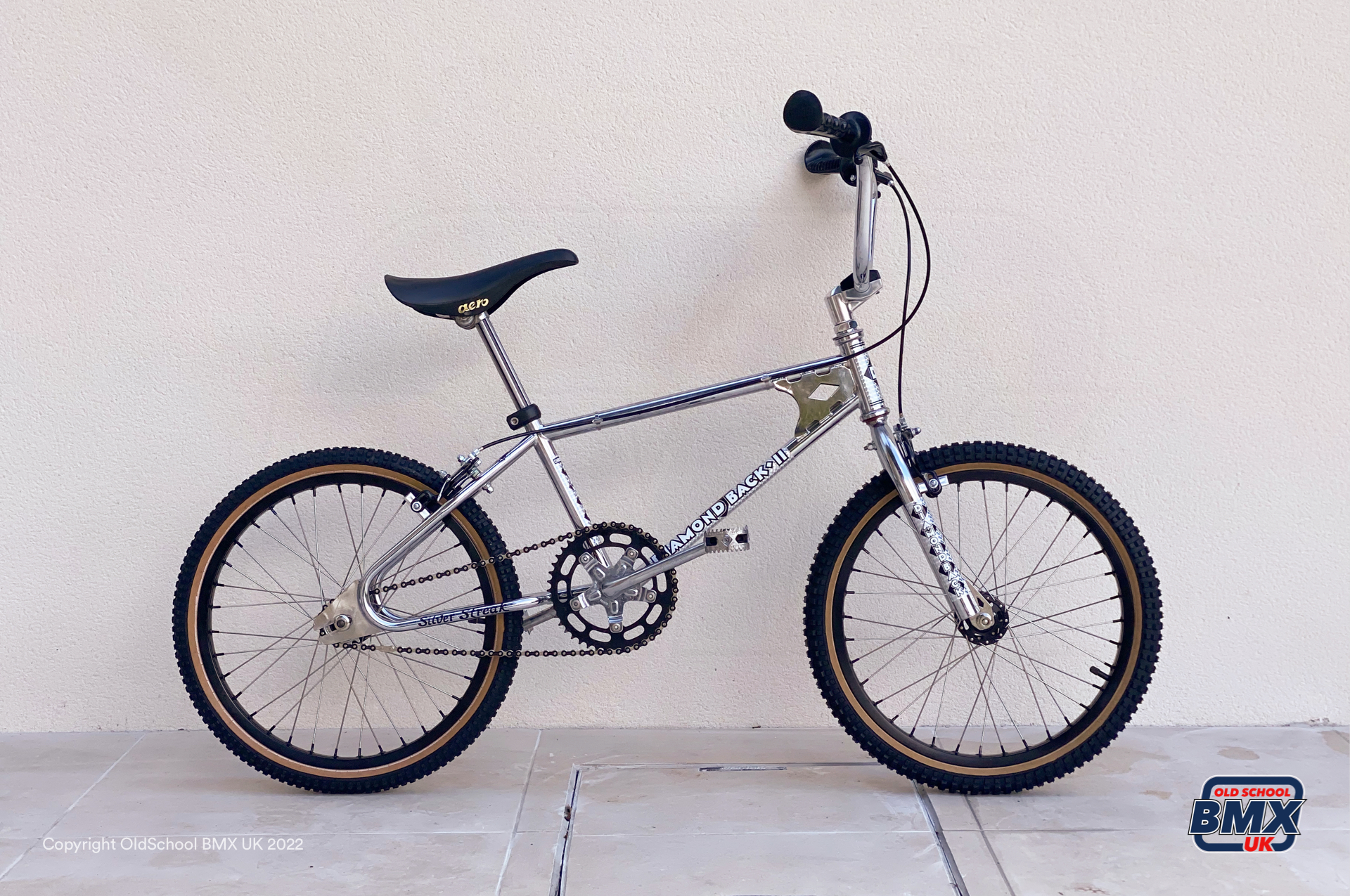 Introduction
The Diamond Back Silver Streak is a fond favourite of old school BMXers and probably one of the most loved bikes with Diamond Back enthusiasts. With its chrome frame, forks and bars and black components, Diamond Back couldn't set a foot wrong – it's an effortlessly stylish bike, as desirable today, as when it was released all those years ago back in 1981.
The bike was named in honour of the Diamond Back Factory Racing team, who were known as 'The Silver Streaks' due to the colour of their race overalls combined with their speed.
Those silver streakers looked great all day long. Loncarevich and King must have had throttles on their bikes.

Diamond Back, NBA Summer Nationals 1981
The first widely released, non-pro bike; at $265.00 the Silver Streak was affordable and accessible to most, and it sold in thousands. To this day, it is one of, if probably the highest selling production bikes Diamond Back made in terms of volumes/numbers produced.
Diamond Back Silver Streak BMX Specifications
The following section lists the general specifications for the Silver Streak. The component specifications changed slightly through the production run and these are listed in the sections below.
Part
Details
Finish
Chrome with Black components
Frame
Diamond Back Silver Streak, chrome-moly front triangle, mild steel rear section. (Koizumi)
Fork
Diamond Back Pro, chrome-moly, leading axle. (Koizumi)
Handlebars
Diamond Back, chrome-moly. (Koizumi)
Grips
F1 Style Black and Grey (Fuan)
Headset
MX-2 (Tange)
Stem
DiamondBack (Sakae Ringyo)
Rims
Araya 7X, aluminium
Spokes
36/.080 (chrome-plated)
Hubs
Suzue, 36 Hole, Large Flange, Black
Brake calipers
Dia-Compe 890
Brake levers
Dia-Compe MX132-45
Brake pads
Dia-Compe
Cables
Dia-Compe.
Tires
Diamond Back, IRC Knobbies 2.125 front, 1.75 rear
Pedals
Tange
Cranks
Sugino, one-piece, chrome-moly, 175mm.
DB Sugino three-piece, forged, 170mm.
DB SR three-piece, forged 170mm (Japan market only)
Bottom Bracket
Tange
Front Sprocket
Sugino aluminium chain wheel. 44 teeth.
Rear Sprocket
16T SunTour
Chain
1/8 inch.
Seat
Diamond Back Aero (Fuan)
Seat Post
7/8″ Fluted aluminium. Nagaoka or STRONG
Seat Post Clamp
Sakae-Ringyo (SR) aluminium
Identifying characteristics
The Diamond Back Silver Streak's production run was from late 1981 until 1983 when it was succeeded by the Taiwanese made Pacer 500.
The Silver Streak is small compared to the pro models and was aimed at an age group range of 8 years to 12.
Identifying characteristics/things to look out for include:
A noticeably laid back seat post when compared to the head tube
A serial number beginning with either a 1, 2 or 3, meaning 1981, 1982 or 1983
Thickish rear dropouts, these are 1/4″ or approximately 3mm
Diamond Back Silver Streak Reference – Model Variations
Over the 3 years of production, some of the components of the bike changed. These are summarised in the table below, then explored in more detail.
Part / year
1981
1982
1983
Grips
Oakley 3 Cobra grips copy
(Fuan) Black
Oakley F1 copy
(Fuan)Black & Grey
Oakley F1 copy
(Fuan) Black & Grey
Stem
Sakae Ringyo stamped "Diamond Back", Black & Chrome
Sugino Stamped 'Diamond Back", Grey anodising & chrome
Sugino Stamped "DB", Grey anodising & chrome
Pedals
Sakae Ringyo MP-134
Black bodies, Chrome caged
Sakae Ringyo MP-134
Black bodies, Chrome cages
Sakae Ringyo MP-464
Chrome
Grips
The two types of grips that came on the SilverStreak appear below. These are Oakley 3 copies AKA Cobra grips and Oakley F1 copies. Both grips were made by Fuan (sometimes spelt Fooan) in Taiwan.
Chainwheels / Sprockets
All models of the Silver Streak ran Sugino 44T chain wheels (or sprockets for our American friends). The early 1981 and 1982 models ran the more traditional/conventional chain wheel. By 1983 the model was running a slimmed-down simpler chain wheel as found on the Harry Leary Turbo.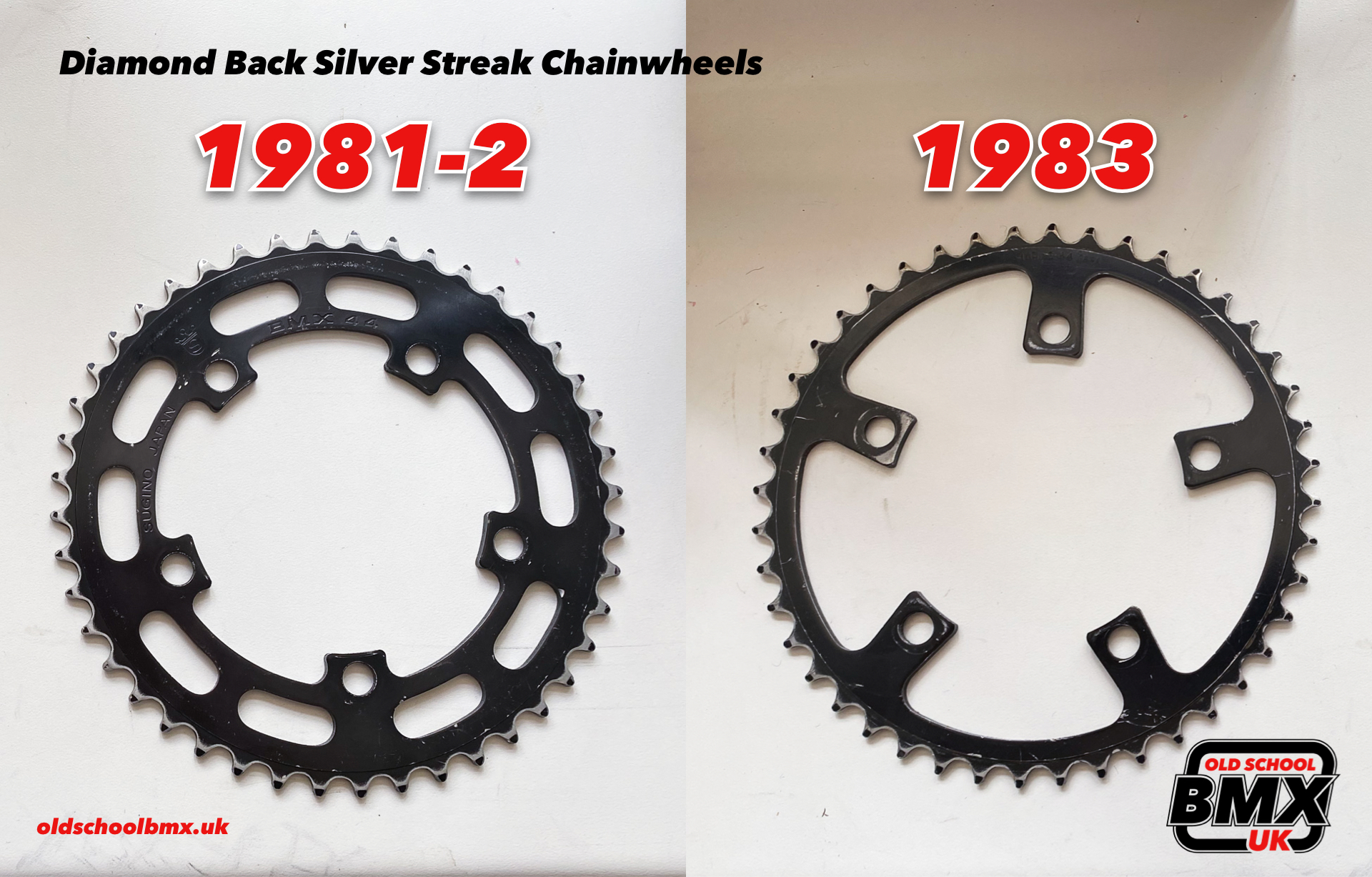 Stems
Through it's life time, the SilverStreak wore two stems, Sugino and SR.
For the Sugino stem there were a couple of variations, making three in total. They are:
SR (Sakae Ringyo) 1981-1982: Diamond Back Stem: Black top with Diamond Back text and the SR logo embossed.
Sugino (1982) With the words Sugino and Diamond Back.
Sugino: (1983) With the words Sugino and DB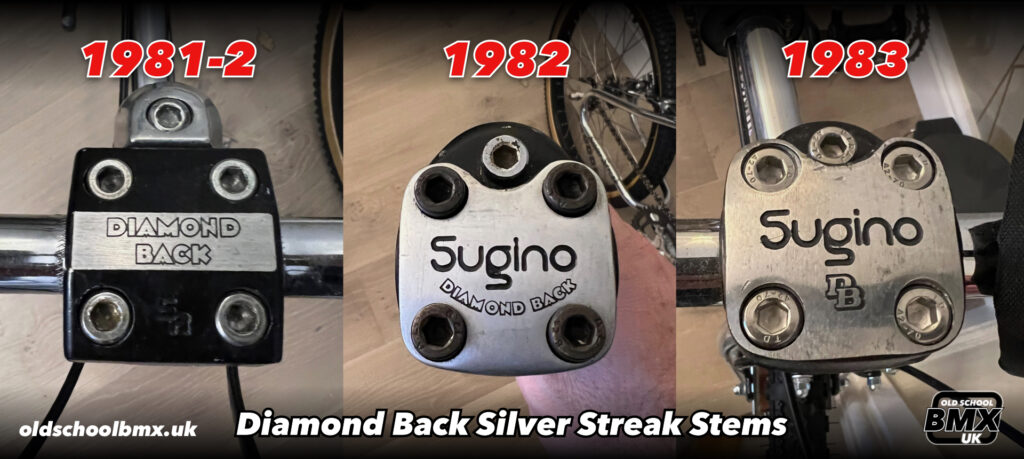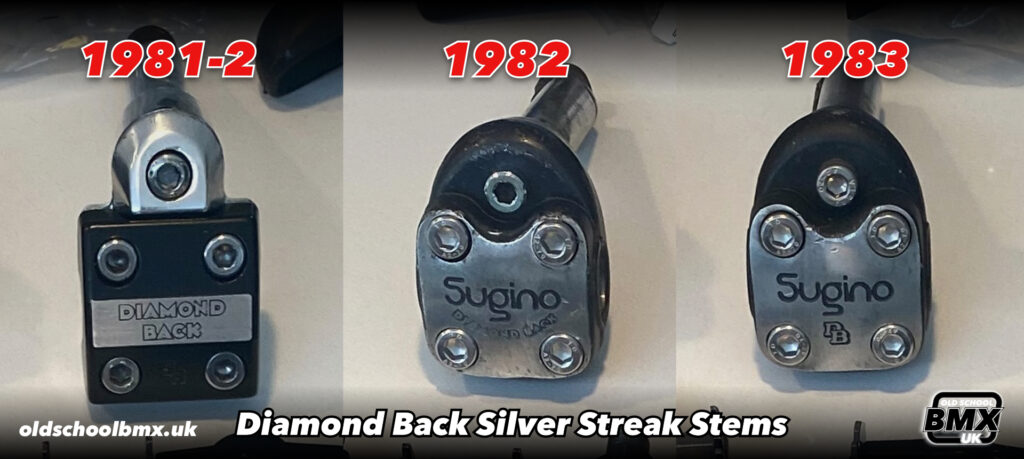 Cranks
In most markets, the Silver Streak came either a Sugino One Piece Cranks (OPC) stamped CR-MO – or Diamond Back custom Sugino three price cranks as found in the the pro kit. The three piece cranks were an upgrade option specified when purchasing.
The Japanese market models also had a three piece crank, but this time supplied by SR (Sakae Ringyo). These cranks bear the Silver Streak name on the cranks arms and use the words Silver Streak in the same font as found on the rear stays.
Diamond Back Silver Streak Decals
The Silver Streak decals consist of seven main frame and fork decals. The bike is sometimes confused and called the Silver Streak II – this is due to the main Diamond Back II shown on the main frame. The complete set of decals is as follows:
Head badge (DB Snake logo or just the initials "DB" on earlier models)
Down tube ( with the words "Diamond Back II" )
Seat tube ( with the words "Chromoly" + " Diamond Back")
Rear stay drive side: with the words Silver Streak
Rear stay non-drive side: with the words Silver Streak
Forks left: with the words "Diamond Back"
Forks right: with the words "Diamond Back'
Additional. If you're lucky, you'll also find Koizumi black and foil labels on both the fork steerer tube and the handle bars under the grips.
Lastly – a Diamond Back "DB" Roundel is sometimes found on the steerer tube and/or the right rear stay, just behind the seat tube.
Diamond Back Silver Streak Adverts, Brochure and Articles
Here you can find references to the Silver Streak in print adverts and brochures.