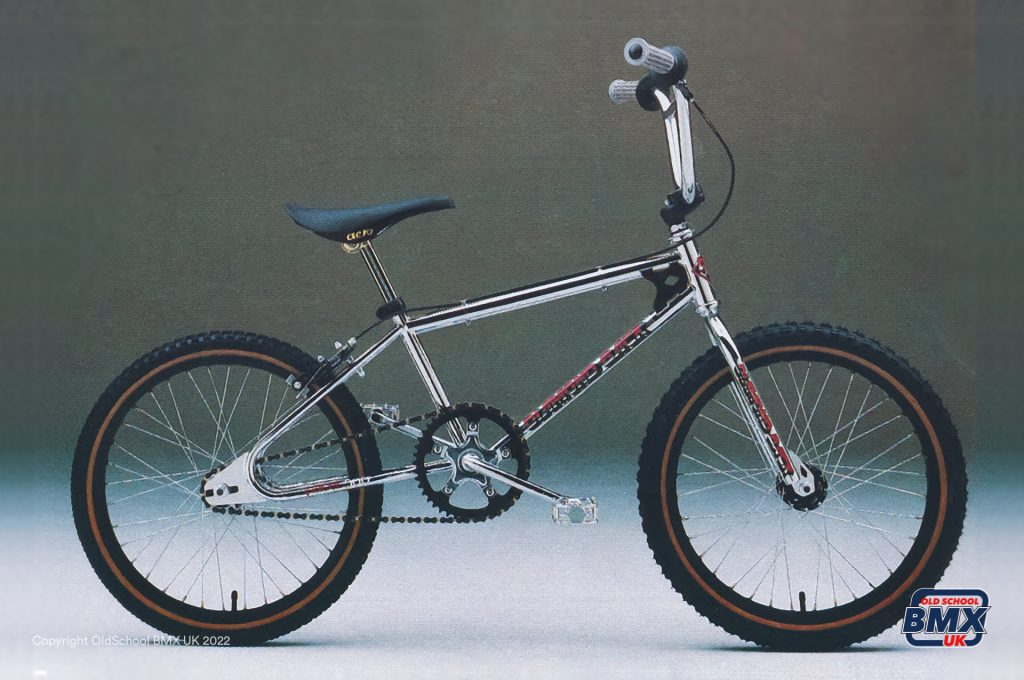 Diamond Back Pacer 500 BMX Introduction
Introduced in late 1983 as the replacement for the Silver Streak. The Pacer 500 is probably the Diamond Back bike that has the most confusion associated with it.
We'll get into the detail of that below – because this bike has a rich history, it requires its own section!
A legitimate race bike designed with Diamond Back quality. A real value!

Doug Davis, ABA National #1
Diamond Back Pacer 500 Specifications
Part
Detail
Finish
Chrome with black components
Frame
Diamond Back Chromoly 3 main tubes
Fork
Diamond Back Chromoly
Handlebars
Diamond Back chrome-moly (medium)
Grips
F1 Style Black and Grey (Fuan)
Headset
DB Chrome plated
Stem
Diamond Back chrome-moly shaft and bolt, forged alloy head (Sugino)
Rims
Araya 7X alloy black
Spokes
80g /36, chrome-plated.
Hubs
Suzue High Flange MX Alloy Black
Brake calipers
Dia-Compe 890 front and rear.
Brake levers
Dia-Compe Tech-3
Brake pads
Dia-Compe.
Cables
Dia-Compe.
Tires
Comp-3 type skinwall
20 x 2.125″ Front
20 x 1.75 " Rear
Pedals
DB Alloy platform (Sakae Ringyo MP-464)
Cranks
Chromoly one piece
Bottom Bracket
Looseball
Front Sprocket
44T Sugino Duralumin
Rear Sprocket
Suntour 16T chrome plated
Chain
DB Black and chrome
Seat
DB Aero ( Fuan)
Seat Post
Alloy fluted black
Seat Post Clamp
Alloy black clamp
Accessories
Chainguard.
Rellectors.
Standard.
Brochure specification. With this componentry, the catalogue spec bike is very similar in look to the 1983 Japanese Silver Streak model
Diamond Back Pacer 500, Super Viper, Viper?
The Diamond Back Pacer 500 was released in late 1983 as the supposed replacement to the Silver Streak. The name is believed to be inspired and designed for a tie in with the Indy 500 race which takes place in May each year. This name continue the tie-in with motorsport racing, given the previous year we had seen the Diamond Back Formula One. Indeed, it's around this time that Diamond Back press advertising featured race cars. (see adverts below)

The Pacer 500 was the 2nd bike produced by Fairly in Taiwan and marked the first mid-range bike in the Diamond Back range coming out of this region. For the most part, the bike has very similar components as the 1983 Silver Streak it replaced.

Dealers didn't dig the name of the bike and sales flopped, and this is where things start to get murky.
Throughout 1983 and 1984 this Pacer frame began to appear in many guises.
Early models can be found with Silver Streak Diamond Back II decals sets. There are many accounts from owners who bought bikes directly from their bike shop like this who believed they had bought a Silver Streak. Some even call these Taiwanese Silver Streaks.
Into 1984 bikes started to appear with decals as both Super Viper and Viper. The frames for these bike are identical in every way to Pacers. It is purely the decals which are different.
Later in 1984 bikes began to appear with chain guard tabs. (for fixing a chain guard). Many people identify these bikes are true Super Vipers, but in reality bikes appear with both Super Viper and Viper decals in this period with and without chain guard tabs. So this frame was more likely to be a product of legislation change – a requirement to have a chain guard, – than any model change. In fact, there are example of both Super Vipers and Viper without chain guard tabs as early as March 1983.
With all this confusing information, sometimes it makes sense to go back and look at the Diamond Back catalogues, as these are how the company intended to market the product range if any else. In the 1984 catalogue, there was only the classic (large gusset) Viper and Pacer 500.
The 1985 catalogue was the first time we see the Super Viper in official Diamond Back marketing material and this also ties into magazine appearances.
It's the writers opinion that due to failing sales, Diamond Back used 1984 as a year of experimentation with names and decals to shift their stock.
Diamond Back Pacer 500 Identifying Characteristics
What to look for:
1983 models are stamped CR-MO on the rear drive side dropout, this continue until end of Feb 1984
The 1984 models are stamped 500 on the rear drive side dropout
Chain guard tabs began appearing on frames from June 1984
The rear section of the bike is a looptail, unlike the Silver Streaks and Koizumi models, there is no matchbox behind bottom bracket.
A small 2 TIG gusset
A noticeably laid back seat post when compared to the head tube ( Same as the Silver Streak, Viper and Medium Pro)
A serial number located on the bottom bracket beginning with either a F3, or F4
Diamond Back Pacer 500 quick reference and decal guide
The following table can be used as a reference for identifying exactly which model variant of Pacer, Viper or Super Viper you have. Look at your serial number on the bottom bracket. After the 'F', The first number, is year 3 for 1984, 4 for 1984. Use the 1st column below to pick that. Then the second 2 & 3rd number specify month, so 01 is January, 12 is December. Use column 2 for this.
| Year | Month | Dropout stamp | Chainguard tab | Decal |
| --- | --- | --- | --- | --- |
| 3 | 12 | CRMO | No | Silver Streak Style |
| 4 | 01 | CRMO | No | Pacer 500 |
| 4 | 02 | CRMO | No | Pacer 500 |
| 4 | 03 | 500 | No | Viper or Super Viper |
| 4 | 04 | 500 | No | Viper or Super Viper |
| 4 | 05 | 500 | No | Viper or Super Viper |
| 4 | 06 | 500 | Yes | Viper or Super Viper |
| 4 | 07 | 500 | Yes | Viper or Super Viper |
| 4 | 08 | 500 | Yes | Viper or Super Viper |
| 4 | 09 | 500 | Yes | Viper or Super Viper |
| 4 | 10 | 500 | Yes | Viper or Super Viper |
| 4 | 11 | 500 | Yes | Viper or Super Viper |
Based on observation and collection of various original decal models
Diamond Back Pacer 500 brochure
The following images are from the 1984 Diamond Back brochure. This is an interactive catalogue that can be browsed. Please click to enlarge.